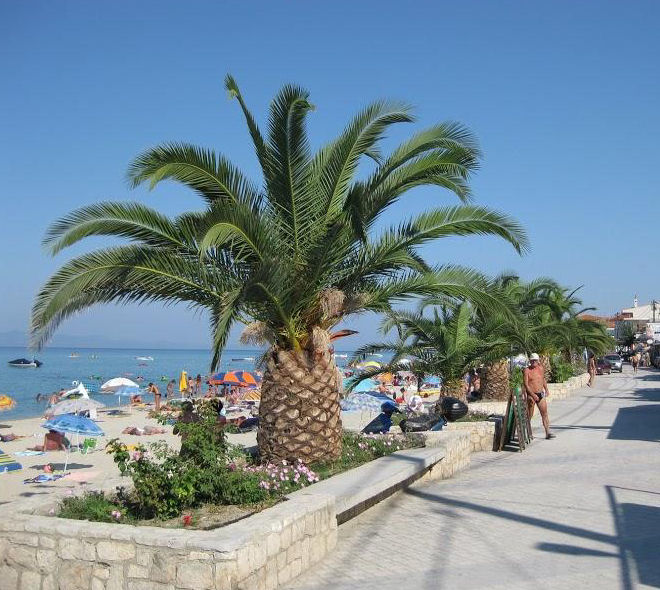 Polychrono Village: Is On The E Coast Of Kassandra Peninsula. 59 Miles SE Of Thessaloniki City, 54 SE Of It's Airport By Good & Fast Road
Telephone IDD code : +30 23740
Hotel Sarikas Location :. 250m from the nearest beach, 50m from the resort center,50m to the nearest cafe/restaurant,70m to the nearest supermarket
Position: Between main road and sea, on gently sloping ground with low hills and pine woods inland.
General description: A beachside tourist village of modern but attractive, low-rise buildings, neatly laid out on a grid pattern.
Market/Suitability: Proximity of beach makes it a good choice for families with young children.
Accommodation: Suggested for families, and couples too.
Shopping: Basic commodities and souvenir requirements are here; serious shoppers go to Thessaloniki.
Beach: 30 feet deep and over » ml. long, of light sand with small pebbles. Sea is clean and clear (BLUE FLAGS). Full Sea Sports .Lifeguards On Duty.
Entertainments: Daytime: beach, beach bars. Nightlife: night bars, tavernas, clubs.
Eating out: Plenty of Greek restaurants ,fast foods.
Public transport: Hourly buses daily, to Thessaloniki and back.

---