Just 90 Km from Thessaloniki, you will find Polyhrono. This traditional village combines nature beauty but simultaneously also one summer-resort vacation.
Polyhrono refers as a village since the 18th century. The beach of the village extends in length of 7 Km and disposes all the facilities for your
relaxation while swimming or sunbathing.
At the same time you can walk on the small brick paved streets or to take your evening strolls on the beach and if you wish to enjoy your coffee or drink
while looking at the sea. From the upper side of the village there is one big forest area full of pine trees. In the forest you will find one cool oasis,
since there is a small lake name «Mavrobara». The lake is one aquatic site, where lives one rare kind of water turtles.
You can sit on the small benches and enjoy this land full of canes and nenuphars.
---
Halkidiki?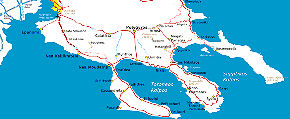 Halkidiki can boast an amazing 550km of coastline, featuring a thousand different beaches, some rocky and imposing, others offering an endless expanse of golden sand.
They say that nowhere in Greece can boast beaches like those of Halkidiki.
This is a place where all your senses will come to life!
Beaches?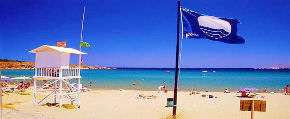 The Blue Flags that Halkidiki is awarded each year are richly deserved.

Some beaches of Halkidiki are very busy and fashionable, and some others not, and waiting to discover...

But all of them blessed with crystal clear waters reflecting the deep green of the pine forest.
Explore your senses.

Activities?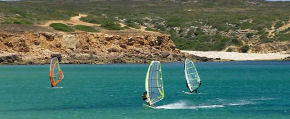 Halkidiki has now developed a host of alternative forms of tourism.
You can find out: sea sports, horse riding, spas, sports, mountain-biking, hiking, agroagro-tourism, faith tourism, and many more!

An ideal place for those who love to keep busy.